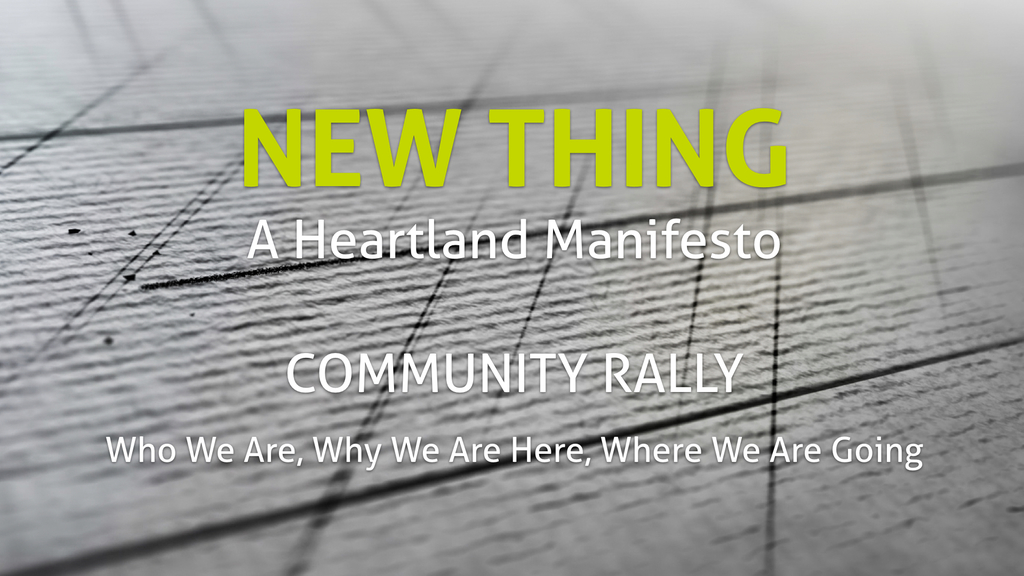 Heartland's Community Rally-11/01/20
Nov 1, 2020 at 7:00 PM
As you know, we are in the middle of an important Sunday series which comes at a critical time in the life of our church community. Our hope is securely fixed on God's promises found in the book of Isaiah, "See, I am doing a new thing...do you not perceive it?" We believe that at Heartland we are beginning to see this new thing emerge - as God continues to build upon the firm foundations of our past - and continues to make a way for us into His good future.

Over the past few weeks we've had the opportunity to remember together Who We Are as a church community. Simply put, we are a Jesus 1st people, driven by a passion for building relationships, who are constantly pointing our lives out like arrows, and making a generational impact one life, one relationship, & one community at a time. That's who we are, and who God made us to be!

Now, starting this Sunday, we will turn our attention to declaring together Why We're Here. We have a unique mission, an exciting vision, some compelling values, a simple strategy, & clear marks of what it looks like to live out a Jesus 1st life in community. We're excited to share these with you, & to invite you to join us in bringing about the new things God has in store for our church community, for our city, & for the world! That's why we're here.

Finally, we want to invite you to join us for a special Community Rally scheduled for Sunday November 1st from 7:00-8:30pm. This will be an important night for all who call (or are considering calling) Heartland home. We are planning for an engaging evening focused on Where We're Going as a church. You can join us in person in the auditorium, or online. We will have personal & community discussion, strategic updates, & a clear picture of where we are headed. This will be an important night for all who call Heartland home.

Will you set aside Sunday night, November 1st from 7:00-8:30 to join us for our Community Rally? We want everyone to participate* - so you can join either Onsite & Online - for an evening of sharing in community, of gaining a clearer picture with strategic updates, & of engaging in the new thing God is doing in our midst - both for you personally, and for us together as a church community.
*Due to COVID realities, and so that all staff & leaders can participate in this evening, we will not have Onsite childcare available. Please sign up to join us on Zoom.