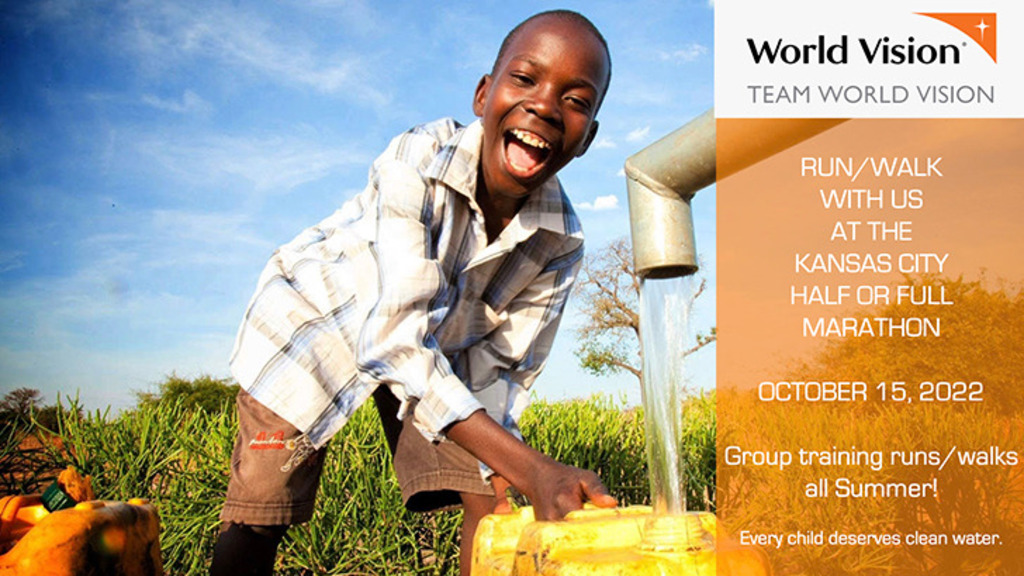 Cause: Team World Vision Marathon-10/15/22
Oct 15, 2022 at 7:00 AM
Cause:Team World Vision KC Marathon
We are running/walking the KC half or full marathon with Team World Vision to help provide life-changing clean water to children and communities in developing countries. So far we have brought clean water to over 5,500 people!
Currently there are:
-Over 700 million people who do not have access to clean water.
-On average, these 700 million people walk 6 km everyday to get water that isn't even clean or safe to drink.
-Close to 1,000 kids, under the age 5, die every from diarrhea related illnesses caused by that dirty water.
-Women and children spend on average 200 million hours a day collecting water. This means that children, especially girls, will miss out on getting an education, helping to break the cycle of poverty.
You can join us and train to walk or run the 13.1 or 26.2 mile races October 15 in Kansas City. If you have ever wanted to do something about global poverty, say YES. You can do this!
Team World Vision provides everything you need to cross the finish line: training plans, weekly group runs in the Overland Park area, weekly email encouragement, fundraising guides and incentives, and an incredible race weekend experience.
Team World Vision brings clean water to one person every 10 seconds! No other nongovernment organization provides more clean water than Team World Vision.
If you have any questions or would like more information, please email or text our team captain, Todd Johnson or at 913-461-8254.
In Africa, there is a saying: "If you want to go fast, go alone. If you want to go far, go together." Join us and let's go farther together!